We caught up with Redpost Rider Alice Watson to get her top tips for the upcoming competition season. Alice is an international show jumper based in Taunton with a growing string of horses from youngsters to Grand Prix, including her top horse Billy Lemon. You can keep up with Alice's adventures on @alice_watson_showjumping – warning, may result in major #horseshowlife envy!
1) Start Small and Build Up!
Don't be tempted to jump straight into the level you WANT to be competing at, THINK you should be competing at or WERE competing at last year. Two or three shows regaining confidence at a level well within yours and your horses' comfort zone is far more beneficial than it not quite going to plan due to nerves or being ring rusty.
2) Boost your own confidence!
There's no doubt about it; no matter what level you compete at, if you believe you look good, you will feel good – and if you feel good you can win! If you've saved up over winter why not treat yourself to a new show jacket/shirt/ breeches, or even a whole new outfit?You will get back out there brimming with confidence feeing like a million dollars. But if you can't afford to splurge don't worry; make the very best of what you have. Make sure any repairs/missing buttons etc are dealt with before show day and that everything is washed and ironed and take pride in your immaculate turnout!
My favourites are my competition jackets from Pikeur, for lightweight and breathable jackets that move with you in the saddle, and make you feel great too!
3) Safety First… but don't forget style 💁🏼‍♀️
Flex-On stirrups have been a game changer for me. Having had both knees reconstructed I really struggled with losing my stirrups in even the grippiest treads. A flat tread was a nightmare for my less stable joints and flexible armed stirrups made it worse. The gentle angle of Flex-On's incline treads along with their super grip mean lost stirrups are a thing of the past. With the added bonus of countless options for customising! Their safety version 'Safe On' is a brilliant new concept which I have tried and tested. The safety arm is easily replaced after releasing and the stirrup loses none of its style with the subtle and cleverly designed arm. Plus, there are thousands of Flex-On customisation options! They also are available to hire so you can try and test them for yourself.
4) It'll be all white on the night!
Nothing is a substitute for a full bath before a show, but we all know that horses have other ideas when it comes to staying clean on pre-show night. Sometimes those sneaky stains don't show themselves until they come out the box in the cold light of day just before you hop on. Cowboy Magic Green Spot Remover is our godsend for those last minute tidy-ups on greys or white socks when time is against us.
5) White Spray
Sometimes try as you might that stubborn stain won't lift 100% in time for the ring. Where it be on a leg, flank or the end of a grey tail, nothing saves the day like a quick blast with Supreme Products White Cover Magic!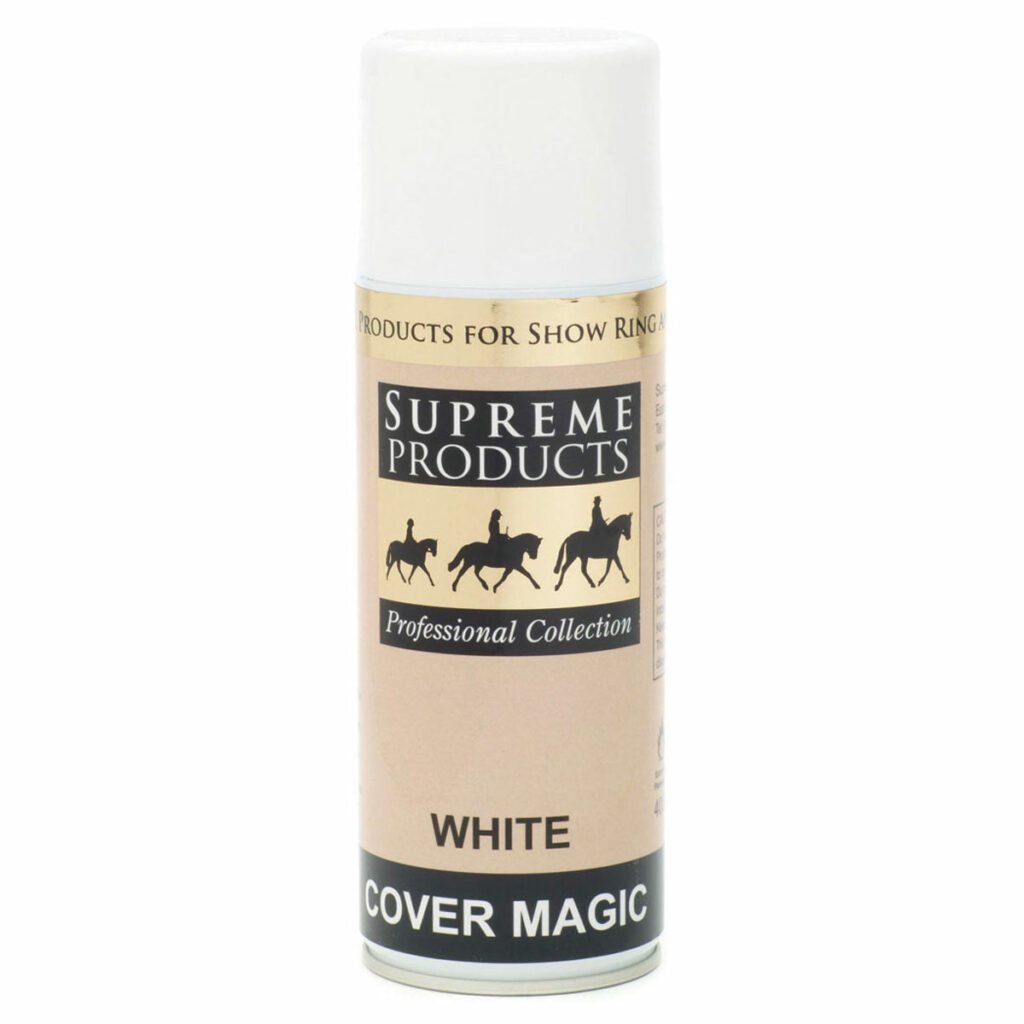 6) Ring Bag
If you don't have a bag to take to the ring I can't recommend investing in one enough. So often there just isn't time to run back to the lorry pre class for a different curb strap, pair of spurs, or a towel for a last-minute tidy up. I particularly love the Equiline Nathan Backpack, with plenty of space and lots of handy pockets.
Some of our ring bag essentials are below:
Baby wipes
Insulation tape
White spray
Spare straps/clips – the uses are endless
Small towels
… and of course, Polos!
7) Whiteboards
Little whiteboards are very inexpensive but great for writing down competition times and extra details. We have one in the tacklocker and one in the lorry- look up and write out times the day before or earlier if possible… so everyone knows the plan and there's no excuses for being late! 
8) Rain sheet
This needs no explanation, wherever you are, whatever the forecast, rain has a way of appearing when your least prepared… we love the Eskadron Waterproof Rain Sheet – it folds into its own self contained bag for neat storage and covers from head to tail. We don't leave the yard without it!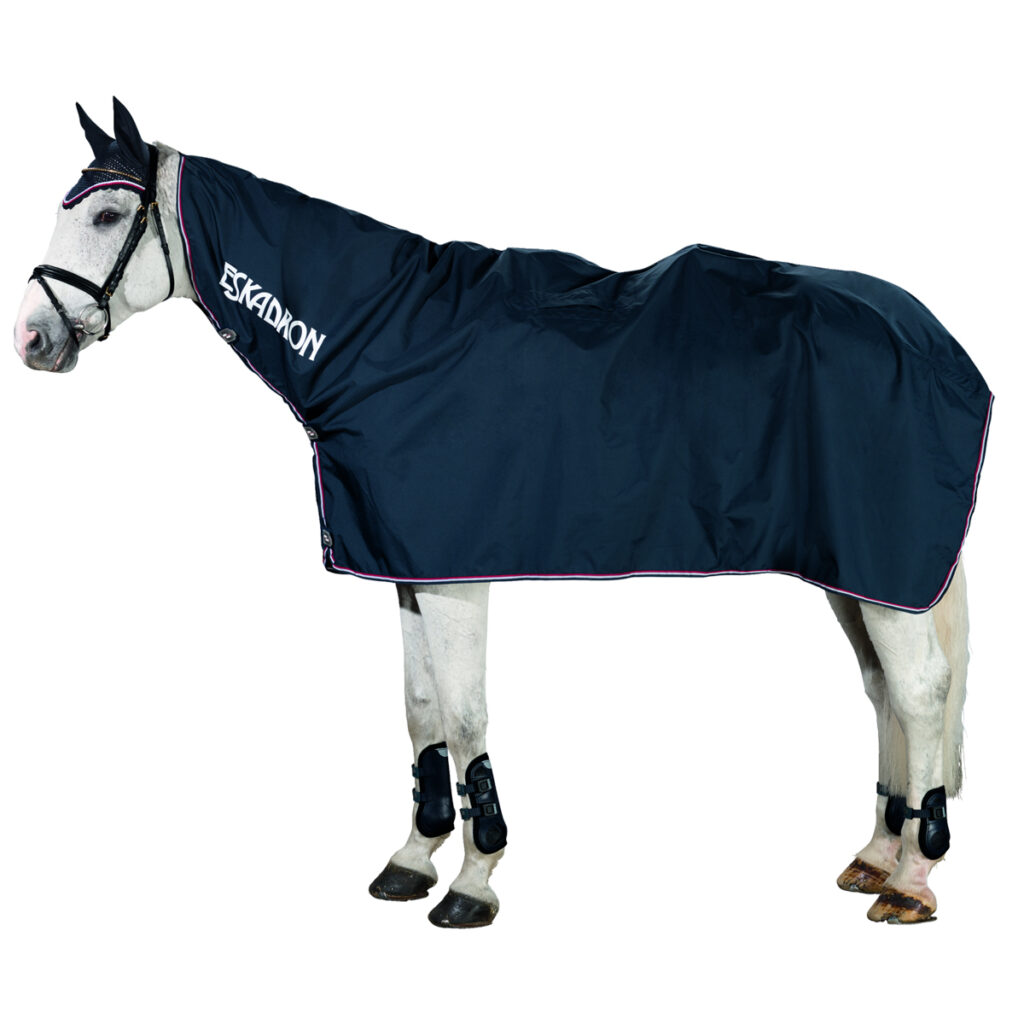 9) Lightweight Waterproof Turnout Rugs
If you're stabling away at a show I would always take a clean lightweight turnout rug – temporary stables can be quite temperamental! Driving rain can come in through the bars and drip over the door way. Having a durable lightweight waterproof rug to stick on top of stable rugs in this instance means that your horse will stay warm and dry underneath no matter the weather- also great if you have a horse that acquires stable stains through stable rugs.
10) Studs
For many of us it will have been a while since we used studs. Go through your stud box and check that you have enough of the right variety for the ground conditions and that they are all clean and ready for use. Throw out any that have damaged threads as these will ruin the thread of your stud holes and lead to lost studs. Clean out stud holes the day before a show and stuff them with a bit of cotton wool to keep them clean. The best tool for removing this is a small flathead screwdriver! And for tightening studs a small adjustable spanner does the trick! 
11) Be Prepared
Write lists of what you need to take for your competition. Sub divide the list into horse, rider, lorry/trailer etc to help remember everything. Once you've tried and tested your list you could print out and laminate it, ticking off with a whiteboard marker so that you can wipe and reuse for next time.
12) Go the Extra Mile
Stand out from the crowd, present your horse to the best of your ability, and really give the impression you take pride in your horses appearance. This may mean getting up an extra hour or two early to rescrub your horse! Why not plait up? You just never know who is watching a class at your local event or even the online video months down the line. For example, a potential owner is far more likely to go to the person who has taken the time to present their horse to the best of their abilities than to the person who has dragged him out the stable and thrown him on the lorry! Your plaits don't have to be perfect, it's about the effort you've gone to – and only with practice comes perfection. Smart Grooming have some brilliant products to help create the best plaits. We love their plaiting wax to tame the flyaway hairs! 
13)  Don't be intimidated
It's easy to be very comfortable at a level and think nothing of it, but as soon as the class is a qualifier for a final or at a bigger show, nerves kick in and cause riders to ride differently. Try to remind yourself it's just another class at a level you are really comfortable at. Often we over-ride or ride defensively to avoid mistakes because we are so wanting to qualify for a final – but actually just end up creating those mistakes due to the change in our riding. This takes practice, but by reminding yourself that mistakes happen and that worrying about them will only preempt them, you can train your mind to trust your riding and not get worked up about more important events. 
14) Visualise
This is a technique I have always used long before I knew it was 'a thing' in sports psychology…it's the process of 'seeing' and imagining what you want to happen – replicating the process of it happening as you want it to happen. In simple terms, this is riding round your course/dressage test in your head before a competition! Once I have walked a course – particularly for a big class – I will take myself off if possible (otherwise I get some odd looks!) close my eyes, and ride round that exact course visualising it as if I am sat on the horse (or horses) I will be riding. Picture every fence, ride every stride, turn every turn, and play it out as if you meet everything on a perfect stride, exactly as you want it to happen. Do this as many times as you want or need. This trains your mind to expect it's going to all happen as you want and help you to react quicker to rectify any blips if it doesn't. This is an absolute must for me, particularly for jump-offs – it's almost like having a second ride because you know the course so well by the time it comes to actually doing it! It also helps settle nerves by getting away from the ring and keeps you focused on what you are doing, and not what everyone else is. Definitely watch a few riders' rounds before you if you can, but not too many that you start changing your own plan! Stick to your plan but be ready to adapt if necessary.
But most of all, enjoy it!